News
06-27-2022
Trade Fair - SINFONET AREA:
The entire aluminium supply chain was present at METEF and MECSPE, indicating the trajectories for the growth of the "metal of the future" for a sustainable and efficient economy: in ten years production worldwide +48% and overall consumption in Italy +35%. A trade fair event, with more than 39 thousand visitors and 2000 exhibiting companies, customized technology for the aluminium, foundry and innovative metals industries.
METEF Arena
The Conference Fonderia Getti in Light Alloys, held on June 11, addressed the situation of the foundry aluminum castings through the analysis of major Italian players in the industry from the industrial, university and institutional. The conference ended with the award ceremony of the first edition of the "Premio Pressocolata Italia"; in a joint manner the associations AIM, Amafond and Assofond, have decided to draw international attention to the development of technology and industrial applications of die casting in Italy.
The intervention of Prof. Bonollo, scientific coordinator of the SINFONET network, provided a valuable example of University-Foundry Collaboration for the development of innovative projects: national and international research illustrating the principles, objectives and results of the AGILE project.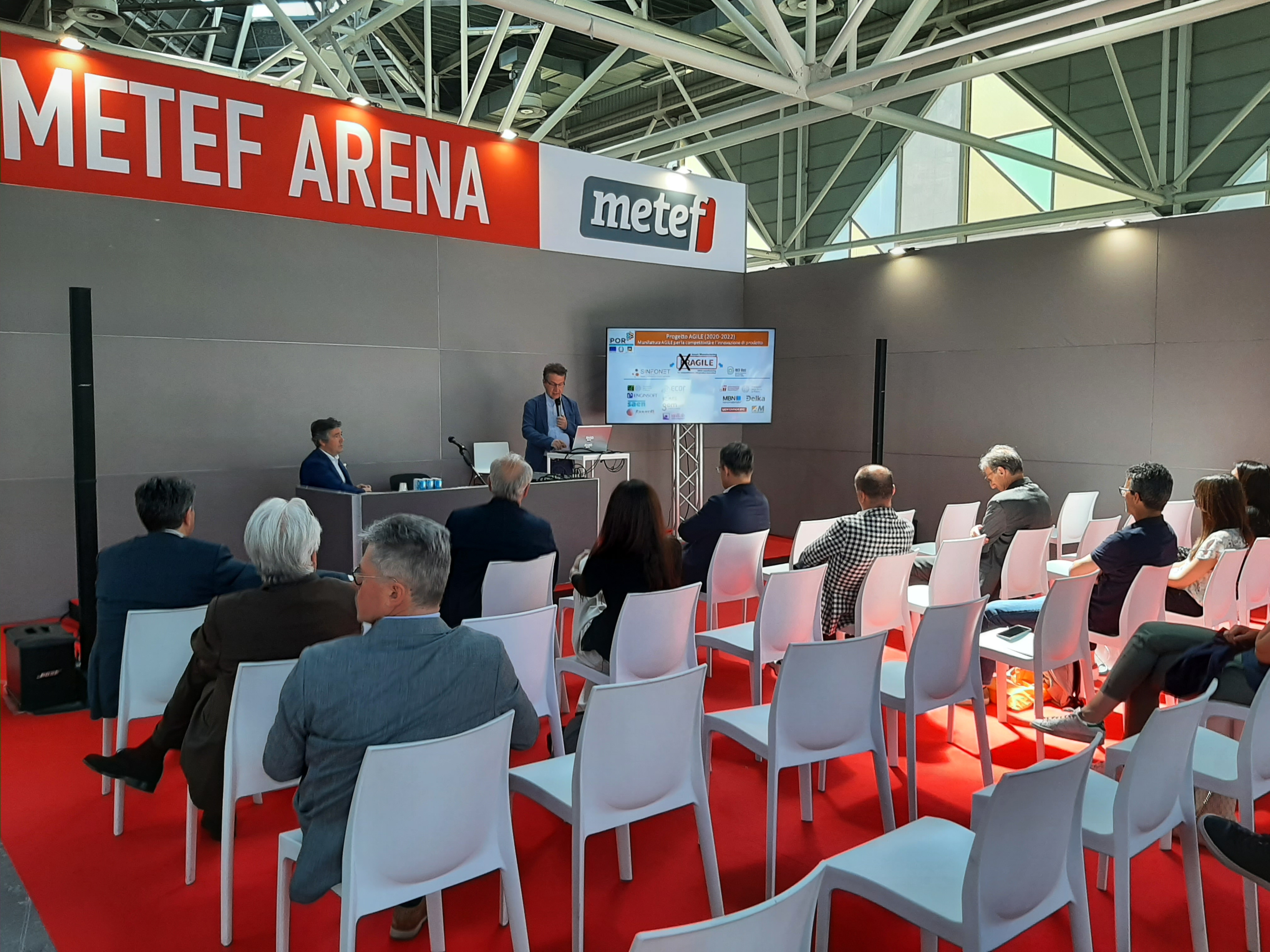 Seminars SINFONET @ METEF2022
An extensive programme of seminars was planned at the AREA SINFONET stand with the contribution of the main actors of the INFOS+ Project.
June 9th, 2022
10 AM: M. Arzenton (Zanardi Fonderie)
Zanardi Fonderie s.p.a.: relevant examples of applications made of austempered ductile iron (ADI)
11 AM: Eng. Marco Breda (Unilab)
FAILURE ANALYSIS: Here's how we really study "your breakups"
TROUBLESHOOTING: We know what really grinds your gears
2:30 OM: M. Arzenton (Zanardi Fonderie)
Zanardi Fonderie s.p.a.: relevant examples of applications made of austempered ductile iron (ADI)
3:30 PM: Eng. Marco Breda (Unilab)
FAILURE ANALYSIS: Here's how we really study "your breakups"
TROUBLESHOOTING: We know what really grinds your gears
June 10th, 2022
10 AM: Eng. Roberto Guggia (Unilab)
DEEP IN THE CORE: measurements and geometrical conformity of pre-production foundry cores
DEEP INTO THE CORE: geometric measurement and compliance of pre-production foundry cores
11 AM: D. Poli (Zanardi Fonderie)
Zanardi Fonderie s.p.a.: relevant examples of applications made of austempered ductile iron (ADI)

2:30 PM: Eng. Roberto Guggia (Unilab)
DEEP IN THE CORE: measurements and geometrical conformity of pre-production foundry cores
DEEP INTO THE CORE: geometric measurement and compliance of pre-production foundry cores
3:30 PM: D. Poli (Zanardi Fonderie)
Zanardi Fonderie s.p.a.: relevant examples of applications made of austempered ductile iron (ADI)